Judy's Books
"Good question! is rich in inspiring & thought provoking concepts and questions as well as ways of questioning, a book that can be more like a friend you turn to when you get stuck or need inspiration. This is a book is packed with good questions but more than that, much more than that, read on and be inspired …"

Joe McGrath, Management & Technical Skills Manager – Toyota Motor Manufacturing (UK) Ltd
HAVE YOU EVER noticed how pleased people are when you ask a good question? They even exclaim 'Good Question!' in acknowledgement. This book, which brings together some of the favourite questions used by 28 of the sharpest minds in business and personal development today, will extend your repertoire of good questions enabling you to have truly transformational conversations.
For the coach and non-coach alike, this book will enable you to help yourself and others find more of the resources needed to make things better. Whether you want to change the world, improve the lives of the people you love or simply improve your relationships or business, this book provides powerful questions that compel us all to find inspirational answers. Created by Judy Barber with expert contributions from…
Coen de Groot, Richard Wilkins, Mark Forster, David Ure, Deepak Lodhia, Ewemade Orobator, David Hyner, Gary Outrageous, Julie French, Richard Tod, Tessa Lovemore, George Metcalfe, Martin Haworth, Steve Halls, Gerard Jakimavicius, Joe Armstrong, Wendy Sullivan, Sanjay Shah, Tony Burgess, Jamie Smart, Debbie Jenkins, Gerard O'Donovan, Jesvir Mahil, Jean Houston, Chris Howe, Lisa Wynn, Babu Shah, Aboodi Shabi, Lourdes Callen
PURCHASE PAPERBACK NOW FROM AMAZON BY CLICKING THE BOOK IMAGE: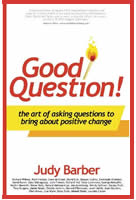 OR PURCHASE THE E-BOOK FOR IMMEDIATE DOWNLOAD:

Mini Ebook Also Available!  "Writing for the Whole Reader" – Only £3.50 and Immediate Download A very helpful little book which can help you to access not only more of your creativity in writing but your ability to make a real connection with your reader. Essential reading if you are writing books, articles, website content and want to write in an intelligent and imaginative way that touches people and motivates them.