Wide vistas and few thoughts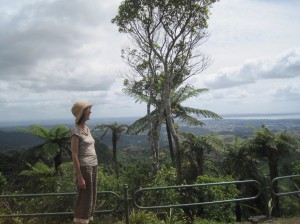 From this vantage point I am looking out over Auckland and the surrounding countryside and it is beautiful. It's a huge city, one of the biggest in the world, but so spread out and with so much greenery in parks and gardens that it feels spacious.
Places like this are good for gaining new inner perspectives as well as for seeing views, I don't think I had any profound thoughts up there. I was just enjoying the wide open space and the uplift of being somewhere elevated.
I have been working quite hard most of the time I've been in NZ, on my raw food recipe book – inventing, testing quantities, making, writing up…., and keeping my other business activities going. That day was quite simply a day off.
Good to be alive.