Does anyone else have the kind of life in which you are in very different situations within a short space of time? I suspect so and that it is the norm these days. It is easy to look back and think life was easier and more simple in the past, but I think in some respects it was. I  wonder whether people were able to take more thought and time to reflect on and work with their experiences, before the next and the next experience crowded in?
Whatever the situation – and mine in the last week have included coaching by phone while sitting on the living room floor, speaking at a funeral, two good business planning meetings, time reflecting on my business and what I want to create this year and beyond, leading a 'Word Cafe' meeting, testing out raw recipes for my upcoming recipe book on my friends, and going on a food foraging walk.
The food foraging walk was interesting, not only because I was in good company and we found lots of edible oyster mushrooms growing on trees and several food plants that were new to me, but because it got me in touch with an ancient part of myself, gathering necessities to take home.
That ancient part of me is there in any situation really, looking around as I move through life and  gathering, gathering.
Whatever circles we move in and whatever situations we get ourselves into we bring our whole self into things, not only our 'inner child', but our 'inner gatherer', our 'inner hunter', our 'inner farmer', not to mention our 'inner toddler' and our 'inner teenager'! Like it or not, we bring a whole host of aspects of ourself into life situations, even ones as far removed from primeval life in the forest as they can possibly be. If these different aspects are at odds with each other because some of them are unacknowledged and outside of awareness it can be difficult to simply be one's whole self.
That's where taking time to reflect comes in. It can be important to think back through the day or through a particular situation rather than to move straight on into the next activity or situation. That's why one of my resolutions this year is to do less and to allow more time for being myself.
Do you want more well being and higher energy levels?
Update and discover supportive eating habits and good  choices for achieving this – without punishing yourself.

I teach people about healthy food, including raw vegetarian food, but since I am a coach and not a dictator this is about learning and making changes that are right for you.

Would you like to put a toe in the water, or should I say 'try a taste'?
Who is it for? Ask yourself honestly if any of these apply:
Do you want more energy?

Do You want to reach your ideal weight and stay there?

You aren't feeling that great and you want to make changes so you are well and happy

Are you dealing with a chronic health challenge or serious illness and have to review things?

Do you have aches, pains, stiffness and niggles that get in your way?

Do you want to grow old gracefully, but not quickly, and you don't want to resign yourself to low energy and more health struggles?

Do you want to be at your best for sports, strenuous activities and mentally demanding work?


Do you want to eat delicious interesting food that supports you to be your best – emotionally, mentally and physically?

Would you like clearer skin and a twinkle in your eye?

Do you want to feel like yourself again?
What will we cover?
Where are you now? – Health challenges, energy levels, weight and wellness objectives

What are you doing? – What you are eating and drinking, what medicines and supplements you are taking. What exercise you are taking

What are your life challenges? – Stress, daily rhythm, who you share your life with, who you make food for, what you eat at home and away from home…

Why you want to make changes for the better, and how do you motivate yourself?

Why raw vegetarian food, how much and which raw foods are best

The importance of enzyme physiology

Acidity, alkalinity, detoxing and energy levels

Food combining

Creating a balanced diet

Making a transition into eating for reliable wellness and vitality

Making food interesting and coping

with different food habits

in your household

Wheatgrass juice and green juices


How to grow wheatgrass,

sprouts and tray greens at home, and why (+ where to buy them instead)

Equipment you need, and don't need.

Answers to your questions about food and wellness,


How a visit to the the Hippocrates Health Institute might change your life – for the better.
What is the special offer then?
A PACKAGE OF TEN PERSONAL SESSIONS OVER THREE MONTHS.
These are one to one telephone conversations or a mixture of telephone conversations and face to face conversations in Edinburgh. They last for up to an hour. You bring your agenda and questions. I mentor you and we work out your next steps from each session

Why ten sessions? There's a great deal to learn and I want to work with you long enough for you to start feeling a REAL difference and to make sufficient progress to know you can continue with what works for you.
Why two to three months? This gives you a session with me every week or so to keep up the momentum, and leeway to fit around times away.
How much does it cost? If you book in advance for the ten sessions, only £500. That's a huge discount on my current coaching rate of £100 per hour and that's why it is a special special offer. If it suits you better, you can pay in three monthly installments of £200.
Why this special rate? Because I am developing the programme. That's why I am offering just ten places at this rate. You'll be helping me just by being my client, the person who you are and by deciding not to put off your own wellbeing needs any longer!
What if you are not sure? Ring me to discuss things before we start. And, ask yourself this:
"What's the cost of not making changes, the cost in terms of not making the most of your life and not feeling as well as you can be?" That's a very good question!
How do you claim your  place?
Ring me on oo44(0)131-4414099 or email me at judy@judy-barber.com
Contact me now to claim one of the ten places – and look forward to transforming your life!
Ever had days when you have had more than you can possibly do that you have to do?  Of course you have! Too many days like that and it's a stress. Too much stress for too long leads to physical illness.
How do you do get everything that has to be done done and still enjoy your day and keep a healthy rhythm?
In some ways that's a question with very different answers, but what are the universals?
If, like me, you are a 'solopreneur' working from home you have to put effort into creating a rhythm that works for you and if you are in a salaried role you have to make your life work within and around an imposed rhythm. if you don't have a good rhythm it's hard on your body and harder to keep track of everything you want to do. I'm getting better at keeping a rhythm, but there have been times when I've had too many plates spinning in my business and of course also had plates spinning in my life and I've lost the rhythm. Notes to self on scraps of paper lost under other papers, rushing to get to a meeting in too little time, eating the wrong stuff because it was quick, saying yes to a project without checking how it would affect other activities… familiar?
Here are eight things I have to insist on for myself. Any use?
Give yourself a few minutes first thing to remember your priorities for the day, and list them.
If the list is completely impossible write M (for manyana;-) beside some and see how it goes.
Keep to a healthy rhythm of eating and drinking. For me this includes fresh wheat grass juice twice a day. It has a huge number of benefits but the helpful one in this context is how much energy it gives me. I know no better remedy for the four o'clock slump.
Let the day breathe. For example, alternate physical tasks such as cleaning/gardening/walking to the shops(walking I said, i.e. exercise) with sitting in front of a computer. Alternate social times and times alone to collect your thoughts. Alternate fast paced and  slower tasks.
Use an over timer to do blocks of one thing and something else, perhaps half hour blocks.
When you eat, follow with at least ten minutes of seated activity for digestion.
If you are up at dawn with the early birds and also stay up late with the owls, have a siesta.
Make yourself accountable to someone. Tell them your tasks and contact them when you've done.  If you don't contact them when you said you would they remind you. Try it – it works!
I was recently introduced to this practice adapted from traditional Hawaiian Huna teachings. One basic aspect is a mantra to say to oneself hoever often you can. It goes like this:
"I'm sorry. Please forgive me. I love you. Thank you"
Underpinning it is a belief or understanding that there isn't really a distinction between out there and inside oneself so that by saying it inside it affects outer reality. I'm writing this after chewing my way through Joe Vitale(from The Secret)'s book 'Zerolimits'.
So, instead of putting the responsibility for relationship problems, earthquakes in Japan and the situation in Libya out there the point is to take responsibility for ALL of it and to 'clean' by saying the mantra. I've been having a go and thinking my own thoughts about the cosmology of it, and wondering if it works whether you believe it or not?
Whether in objective everyday terms it is your fault or someone else's or a mixture, the practice of saying the four phrases so far seems to me to have a good quality to it. I've written them out and put them on the fridge and it's cheering muttering them. Does anyone have experience of Ho'oponopono? I'm wondering how it might be helpful in my coaching but it's early days – not getting the client to do it that is, but going on doing it myself.
This blog is short because I'm packing and flying to the Philippines today to run a month of workshops.
Today I am learning:
*How much I can do to a deadline
*That I should faff less and get more done when I make my own deadlines as well as when i have clear external ones, like booked flights!
*To stretch and breathe now and then to get it all done happily and skillfully
Please have a look under events for the exciting workshop I'm leading in Fife with Dr Jane Jamieson, and I'll be posting more about it during February. Do ring or email jane for more information too.
I have been in NZ for two months and it has been fantastic. I have heaps of photos for future blogs. I am again reminded of how short and precious life is and of the importance of treasuring and savouring all the days and moments.
Remember this one?
"Whether the weather be hot
or whether the weather be not
We'll weather the weather whatever the weather
whether we like it or not!"
And the funny thing is, with that attitude to life we tend to like it a lot more ;-)
Onwards and upwards!
Judy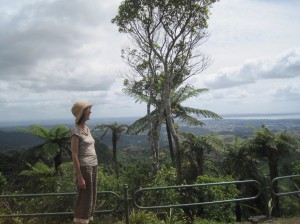 From this vantage point I am looking out over Auckland and the surrounding countryside and it is beautiful. It's a huge city, one of the biggest in the world, but so spread out and with so much greenery in parks and gardens that it feels spacious.
Places like this are good for gaining new inner perspectives as well as for seeing views, I don't think I had any profound thoughts up there. I was just enjoying the wide open space and the uplift of being somewhere elevated.
I have been working quite hard most of the time I've been in NZ, on my raw food recipe book – inventing, testing quantities, making, writing up…., and keeping my other business activities going. That day was quite simply a day off.
Good to be alive.
…and finding rich treasures.
I am in New Zealand, which was my home for many years and which is my home when I am here, which I am for another precious week. tonight I walked along my favourite beach with a friend and no camera. It's been stormy from the weather pattern that crossed the Tasman sea from Brisbane and a big tide called the King tide. The sea had washed up patterns of seaweeds, shells and sand-dollars for us and some people had made a huge sand-octopus. There was so much beauty of space around us. The light was wonderful with the pink of evening after a hot day and our conversation ranged from the harvest of shells through people, pasts, now and futures.
I have nothing to show you from my camera.
I am reminded of a short story I once read about a woman on holiday in the south of France many years ago who was walking at low tide in the evening on wide sands and came across an old man drawing with a stick. As the man walked away and the tide turned she realised from the beauty of the cryptical drawings that the old man was Picasso and that there was no time to run up to her beach house for her camera before the tide washed over the pictures. She was the only one who would ever see those pictures and realised she had to drink them in with her eyes and treasure every second.
That's how I feel about this evening on the beach with my friend. But it's true anyway, isn't it? even with our cameras at our sides life is washing over our days and we have to appreciate every precious moment.
Pause, learn, heal, play and move forward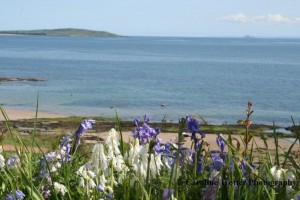 Lower Largo, Fife, April 29th – May 1st 2011
Positive change to last a lifetime
Be creative and appreciate YOU!
Join us. Enjoy, be and renew
Living foods, sea vegetables, fun, relaxation and nature
Self renewal and food for healing
Expert teachers
Me – Judy Barber – Hippocrates Health Educator and Transformational workshop leader
Jane Jamieson, lecturer in Nutrition and Wholistic Therapist
Beautiful and natural surroundings
EARLY REGISTRATION DISCOUNT until 6th March 2011
To register contact Jane on 07905636050 (not me, as am in NZ and then the Philippines till end of February)
Not only have I had an ailing laptop that would only travel at three miles per hour, then no laptop when it was being fixed and then a fixed computer that I was trying to catch up with everything on, but I have had 'writer's blog block', which I hope is not contageous. This is not about having nothing to write about and only partly about having so much going on that my days have been over-filled but something else.
If I can hunt down the 'something else' and write about it it might be helpful to some of you readers – because I can't believe I am the only one who ever gets it!
I am combing through my thoughts with some kind of psychic flea comb and what do I find?
*Self-belief in having something to say? No, because once I start I am in the flow and I know that.
*Habit? Yes, partly that because a blogging habit is good for business and it is fun. It's good sharing oneself with the world at large through the incredible potential for positive change that exists in the net.
*Creating a 'pathway'? By that I mean something like habit, but the actual process of deciding to write a blog and linking that with clicking things on the laptop to get a posting space on the screen in front of me. Yup, yes, that + building up a habit of blogging often and regularly.
What stops you blogging, and how do you get over what stops you? I'd really love to know. Please post here and tell us!
After a long busy autumn and some winter that was exceptionally cold and snowy I made it through the snow (two suitcases pulled like sledges over two feet of snow) to Edinburgh Airport and after 30 hours of delays was on my way. I now have two more glorious months here staying with good friends in the Auckland area where I lived for many years. I planned for months for this and it hasn't been without complications but now I am here I can live a little differently.
Differently? Not just the weather, which of course is warm and wonderful after such low temperatures in Edinburgh, but in the way I work. Of course some of the time I am playing and resting and having my first real holiday for too long, but I am also working hard on a single project.
A single project? That's the idea, to concentrate on creating one product and getting it at least nearly to completion while I am here. It's been on the back burner so to speak, which wasn't the best place for a raw food recipe book! I have been collecting the recipes for nearly three years and now it is time to test, adjust, adapt, measure and write it all up, feeding a variety of friends so that I get a variety of situations, appetites and types of interest to deal with. So far it is working well and I have only been busy with it for a few days.
If you tag along with my blog and leave me some comments and questions I'll be really pleased and might just share a recipe, or two.
Here it's windy, warm and rainy and I've been paddling amongst storm-torn seaweed along the tide line. I'm listening to the wind in the trees and can still taste the ripe plums we picked earlier. Dinner time and I am about to find out whether they liked my simple lemon 'cheesecake' :-)