I like kelp after all!!
I tried to like the brown rubbery granules of kelp from health food shops a few years ago and never really liked it except well-disguised in soup. Then I was reminded recently that kelp has different beneficial qualities from other seaweeds such as dulse and thought I should try again. Was that in my mind when I was on the little Scottish island of Iona last week (and getting on really well with my wellness book there by the way)?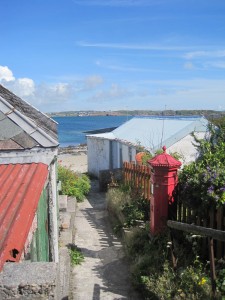 The post office is right by the beach and having posted a card I went on down to the beach and found a bounty of seaweed including a great deal of big long ribbons of kelp, some smooth and some frilled.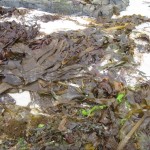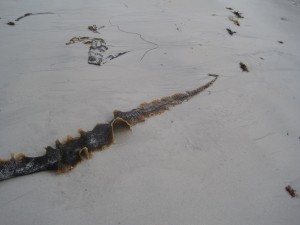 I got plastic bags and gathered up what I thought was quite a lot. Once home I  pegged it up in the house to dry a little, brushed the sand off (why didn't I rinse it in the sea??) and put it in the dehydrator overnight. It shrank right down and now I'm going to blitz it in my fast blender to make it into kelp 'salt' to sprinkle on food. I have chewed it and it tastes great! The texture is quite coarse and rubbery compared to dulse so I wouldn't like it in big chunks, but it has a great taste and ground up it will make an excellent seasoning. Now I want to get more for the winter!