Chips and dip recipes
It was such a treat earlier this week meeting an interesting crowd of people in realFOODS Health Food Shop in Edinburgh and presenting some of what I know about Raw and Living Foods.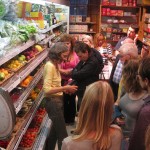 Click on photos to enlarge.
I'm being asked for my recipes, so here goes. For the corn chips you need a dehydrator. For the dip/pate you need a blender or food processor. I used a food processor. If you don't have a dehydrator the dip is very nice with carrot, sweet red pepper, cucumber and celery stick dip sticks. If I serve the chips and dips I would always serve the veggie sticks as well anyway. The corn chips are fun and provide substance and bite, but are no substitute for fresh veg.
Red pepper corn chips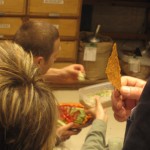 500gms raw sweetcorn scraped from fresh corn cobs. failing that, you can get away with frozen but not cooked sweetcorn but it's not as vital of course.
I red pointed sweet pepper or red capsicum, roughly chopped(minus seeds)
1/2 cup freshly ground flax
1 tablespoon cold pressed olive oil
3 tablespoons tamari or nama shoyu soy sauce
pinch cayenne pepper
small bunch fresh basil.
Process all except the flax till grainy in texture. Add the flax seeds and pulse till mixed in. It might not seem salty but it will be quite tasty enough once the chips dry out. Spread thinly on two or three silicone sheets on dehydrator trays. Mark lightly into large triangles(they shrink) with a blunt knife. Dehydrate for a couple of hours till starting to dry out. Always keep the temperature of the dehydrator below 47oc/117of so as not to damage the enzymes and other nutrients. Flip the silicone sheets over and peel them off, leaving the corn chips on the mesh sheets on the dehydrator trays. Put them back in the dehydrator to dry out over night or all day, till completely crisp. Store in an airtight tin – usually not for very long I find…

Sunflower seed and chive dip
I bunch finely chopped chives
I cup sunflower seeds soaked overnight, plus left to sprout for a day if you have time.
a pinch cayenne pepper
8 green pitted olives
Juice of 1/2 ripe lemon
Himalayan salt or celtic sea salt to taste
2 tablespoons cold pressed olive oil
1/2 avocado
Process all ingredients except olives, chives and avocado. Add avocado and process till smooth and thickened. Add olives and process briefly so that there are still little pieces. If you wish add more olives to taste and process again. Turn the mixture into a mixing bowl and stir in most of the chives. adjust seasonings with salt and lemon juice if necessary, but it's always best to under-salt. Serve garnished with the rest of the chopped chives.

Bon appetit!